Day Tripping
What is your take on the ideal getaway?
Is it wine soaked or sun soaked? Is it spent swinging on the links or basking on the beach? Is it all about cruising on the water or swooshing down the slopes? Is it about biting into a fresh picked apple or savouring an impeccably prepared meal?
How about if you could have all of the above and more? Would that fit the bill? Well, British Columbia Wine Country aims to deliver. It's one of the places on earth where you can ski, golf and tour a winery all on the same day.
With this in mind, planning day trips filled with wine-focused activities combined with alternate adventures is a cinche, and you'll be able to please just about everyone in your travel party. The biggest problem will be trying to pack in everything you want to do.
Looking for ideas? How about a weekend road trip through the North, Central or South Okanagan? Spend a day on one of the area's gorgeous golf courses. Dedicate another to touring the wineries along its scenic corridors. Cap an evening with an outdoor concert in a vineyard. Don't forget to pick up some wine along your travels and bring it with you to any of the fine local restaurants where you can sip the spoils of your tour while sampling regional cuisine.
Or how about a salmon fishing excursion combined with a tour of Vancouver Islands charming wineries? Imagine pairing a bottle of local wine with your catch of the day.
While on your mini-excursion, squeeze in some shopping, take a trip to a spa or enjoy a scenic guided tour.


---
click on maps to enlarge

---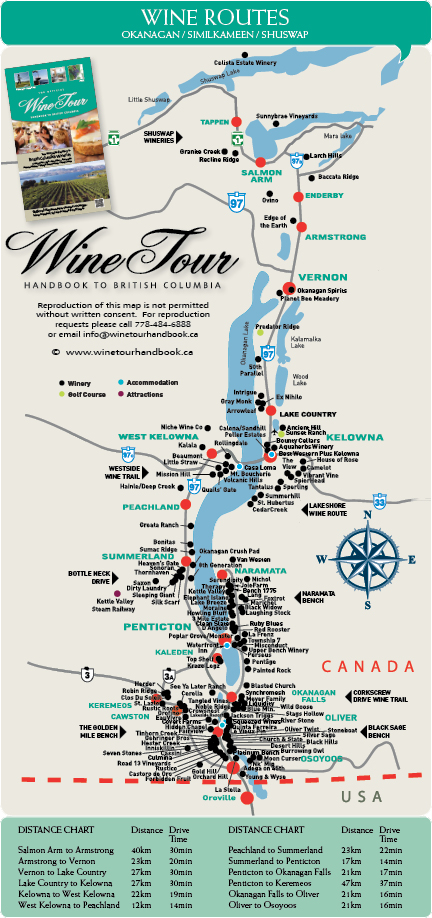 Wine Routes by Region



The Shuswap

The Shuswap region located north of the Okanagan Valley. It is home to one of the province's most beautiful lakes and unsurpassed mountain vistas. But it also enjoys a micro-climate that has been beneficial to producing fresh, aromatic wines. Quaint communities and unparalleled hospitality make the region a must visit. The Shuswap Group of Wineries is made up of 6 wineries to plan a tour around.
Salmon Arm - Located on Shuswap Lake featuring more than 400 km of gorgeous shoreline and is considered a world-class mecca for houseboating.
The Okanagan Valley
The Okanagan Valley is B.C.'s largest and oldest wine appellation and has experienced unprecedented growth over the last two decades.
The Okanagan is an ecological wonder. It stretches more than 100 kilometres and is arid, receiving less than 30 mm of precipitation annually. Okanagan Lake fills most of the valley floor and offers welcome respite from the blistering summer heat. An additional attraction is the vast array of wildlife species, including big horn sheep, cougars, burrowing owls and even rattlesnakes. The Okanagan is home to Canada's only desert, an extension of the Sonoran, which stretches up from Mexico.
This divergent terrain has created unique microclimates in the various pockets of the valley. For that reason, you will find a profound diversity in the varieties of grapes and styles of wines produced here.
North Okanagan
Vernon - the oldest and second largest city in the valley. Home to Predator Ridge Golf Resort, host to the prestigious Skins Game twice in eight years.
Armstrong - the cheese capital of Canada.
Central Okanagan
Kelowna/West Kelowna - includes the valley's largest city; featuring miles of sandy beaches hugging the shores of Okanagan Lake. You'll find Big White ski resort nearby. This is where grape growing got its start in the 1800s. Numerous wineries located here forming Kelowna's Wine Trail. Find the Lakeshore Wine Route in south Kelowna area. Thereis plenty of variety for golf including Sunset Ranch Golf & Country Club, considered Kelowna's best value for championship golf!
Lake Country - known as the Apple Capital of Canada and set in a picturesque pocket of rolling hills and lakes.
Peachland - epitomizes beaches and peaches and Ogopogo's hometown.
South Okanagan
Summerland - Featuring the Kettle Valley Railway; Summerland ornamental gardens; a salmon hatchery; and the Bottleneck Drive wine trail.
Penticton - sandwiched between two lakes - Okanagan Lake and Skaha - and just a short drive from Apex Mountain ski resort. There's a river channel in the heart of the city that draws thousands of tubers each year.
Naramata - a captivating benchland that winds its way along the southeastern tip of Okanagan Lake. It features Naramata Bench Wineries, a high concentration of wineries and is an ideal spot for a bike tour.
Okanagan Falls - has an old west flavour and one of the main attractions is McIntyre Bluff, vertical cliffs which rise 250 meters on the edge of Vaseaux Lake, a wildlife preserve. Home to the Corkscrew Drive wine trail.
Oliver - Known as the Wine Capital of Canada, as it has the highest concentration of wineries and vineyard anywhere in the nation. The area features two premium growing areas - the Golden Mile and Black Sage Bench, with just about every square inch filled with lush rolling vineyards. Where there are no vines, you'll find an abundance of fruit trees and you'll be hard pressed during the summer months not to find something fresh and delicious to snack on. Oliver features a small, picturesque lake - Tuc El Nuit - serves as a welcome summertime respite for boating, paddling, fishing or just for cooling of. During the off-season, nearby Mt. Baldy ski resort is a quick winter getaway.
Osoyoos - The most southerly vineyards in the province surround this foot of this vibrant community, which sits just before the U.S. You'll find an interpretative desert centre here, where you can learn about indigenous plants and animals - perhaps catching a peak at a burrowing owl or rattlesnake. Osoyoos boasts the warmest freshwater lake in Canada, extending watersports and activities.
Similkameen Valley
History buffs will be drawn to the old frontier-like atmosphere and landscape of the Similkameen Valley, which stretches along Highway 3 to the historic town of Princeton.


Back in the day, this region was known for ranching and gold mining and still retains a lot of that Western charm. Visitors on the Similkameen wine trail have been lured to the Similkameen river to try their luck at a little gold panning and prospecting.

The Similkameen is one of the few regions that has yet to be tapped for its full potential for wine production.

Keremeos - This arid, pastoral valley is home to a thriving tree fruit industry, in fact, Keremeos one of the main towns on the wine route, is dubbed the Fruit stand Capital of Canada.

Cawston - an agricultural centre with two fruit packing plants, one for organic produce - a fast-growing segment of the area's economy.

Fraser Valley

Growing conditions are similar in B.C.'s fourth primary wine producing region, the Fraser Valley, which has a collection of wineries in an area rich in agricultural roots. Its proximity to Vancouver makes it highly accessible and provides excellent opportunities for rural daytrips and urban excursions. Fraser Valley producers focus mainly on growing whites and lighter reds, along with picking up fruit from the Okanagan.

Vancouver Island and Gulf Islands

Vancouver and the Gulf Islands wine region is far more humid, but is also blessed with microclimates that favour winegrowing. The Cowichan Valley, for example, enjoys rather dry summer months with just over 100 cm of rainfall annually.

Vancouver and the Gulf Islands have a longer growing season, a lower risk of frost in the spring and fall and little or no snow in the winter. These areas are more suitable for growing aromatic whites and lighter-style reds. But fine wines are also being made from tree fruits, berries and even honey. Many island producers purchase grapes from the Okanagan to make fuller-bodied wines.

This charming region harkens back to a simpler time, with an easy, casual approach to life. Agritourism is very strong with roadside and farm-gate produce at the ready.

The Kootenays

Travelling east of the Okanagan Valley on Crowsnest Highway, you'll wind your way through a vast and breathtaking terrain. The Kootenays feature an abundance of lakes and four parallel mountain ranges, beginning with the Monashees from the west.

This is a region appreciated for its ruggedness, for its hot springs, for its glacial waters and for its pristine and formidable wilderness parks. But you'll find wine here too, namely in south central communities between Trail and Creston. You could potentially visit all five wineries in one day, but are better to split it up and take in other regional sights - stopping in Trail and Thrums on day one and going to Creston and Wynndel on day two.